Is Reformer Pilates Right For Me?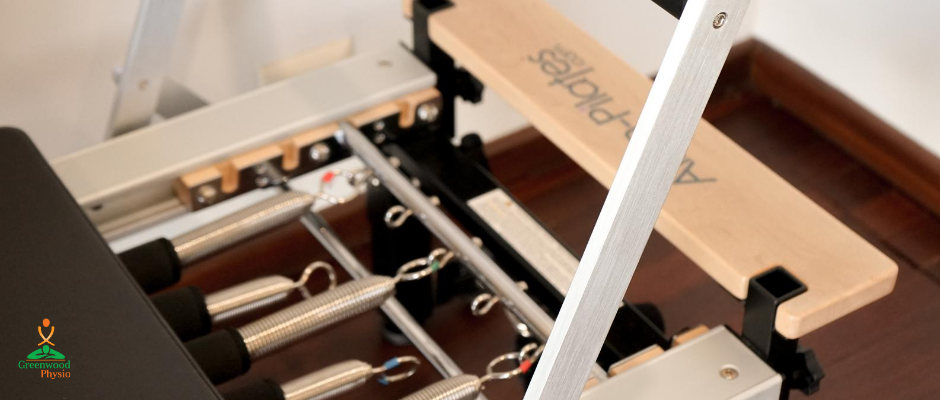 Maybe Reformer Pilates has been suggested to you by your physio and you've rolled your eyes at the idea. Or your friend has been raving about the Reformer class she's been attending the last few months and it's got you thinking? You've probably walked past a Pilates studio and seen the weird looking machines in the window, right? Whether you're an exercise buff looking for the next trend or you're new to exercise but not interested in running on a treadmill, Reformer Pilates is a fun, challenging way to up your fitness game.
What Is Reformer Pilates?
Women's Health describes Reformer Pilates as "a form of exercise that shares the principles of centering, concentration, control, precision, breath and flow with traditional mat classes, but is done on a reformer machine which involves a system of springs, ropes, pulleys and a carriage". A Reformer is essentially like a single bed with a platform on wheels which assists the user in completing exercises. Reformer Pilates shares the same principles as traditional mat Pilates, the reformer machine acts as a support system for the body to assist it into proper form. The springs and straps on the machine add resistance to the Pilates exercises, which adds an additional dimension to your workout.
Do I need Pilates experience to do Reformer Pilates?
There is a common misconception when it comes to Reformer Pilates, and it's the idea that you need to be experienced in Pilates to jump into a class. When it comes to Pilates the goal is to build up your strength from your core and progress outwards. So it's like building a house – first you start with the foundation before you begin to build the walls and then finally the roof. So no matter what stage you're at in your fitness journey, a reformer class can be adapted to suit your experience and ability.
Classes can be designed for any fitness level and the machine can be set up to ensure you're able to complete the exercises to the best of your ability. But don't be fooled, whether you've had Pilates experience or not, a Reformer class will still be quite the work out!
Why should I choose Reformer Pilates?
Because it's fun! There is an endless list of benefits to this style of work out, but at the end of the day the most important thing to keep in mind is that you'll never know if it's for you unless you give it a try. Stepping out of your comfort zone and try something new is a sure way to have a bit of fun and mix up your exercise program!
This is a full-body workout, which means not only will you enjoy yourself but you'll also be able to strengthen your body and get a full calorie burning workout at the same time.
I'm recovering from an injury, is this class for me?
At Greenwood Physio our Reformer classes are run by one of our physios who have had additional training in the reformer technique. Because of the low impact nature of Reformer Pilates it's a great exercise class for those returning to exercise from injury. Just make sure your instructor is aware of your injuries so that they are able to adjust your reformer to suit your body and any potential limitations.
What classes do Greenwood Physio run?
Reformer Pilates classes are coming back to Greenwood Physio. We are currently finalising our timetable and will be running both small group sessions and one-on-one sessions. If you're interested in Reformer Pilates, please give our team a call on 9246 0882 or contact us through our Online Contact Form.